Markets
---
Pasar Batu Lanchang
Pasar Batu Lanchang is a wet market and has an adjoining hawker food centre as well. It occupies a fairly large piece of land off Lebuhraya Batu Lanchang. This market was somewhat out of my way to the usual haunts, so to speak, so I parked my bike (and later had to wander around, looking where the heck did I lock it) and helped myself to a drink and then strolled around. There are several entrances to the place and for my first visit, it was mildly disorienting once inside the aisles. The place was crowded on a weekend, practically every table was occupied and people were in queues for food or looking for vacant tables. Well known items such as char kway teow, tomyam soup, curry mee, Hokkien mee and pasembur are available here. There were certainly a lot of options and there were mouth watering aromas everywhere. The wet market was busy as well with all manner of items for sale; fresh vegetales, flowers, spices and pork. I even saw an elderly man dressing frog meat, standing next to a crate full of live frogs.

---
Chowrasta Market

Chowrasta Market or Pasar Chowrasta is another market in Georgetown. The name is derived from the Hindi word "chowrasta", meaning the intersection of four roads. This market has been renovated in recent times and is therefore, very neat and tidy. It has sufficient illumination inside and cleaner (and the floors were drier) compared to some of the other older markets I saw. The market has been around since 1960. It is also one of the first buildings in Penang to be equipped with escalators. As with most wet markets, the best time to visit is the earlier hour of the day. I visited on a Sunday morning and it was thronged with locals (looking for fresh fruit, vegetables and meat) and tourists (on the hunt for souvenirs and knick knacks). There is also a multistory car park which means that looking for parking in the Georgetown center is no longer a hassle for motorists. One of the streets bounding this market is Tamil Street and I noticed that a lot of stall keepers (especially mutton butchers) were of Indian origin, therefore, giving a strong impression of Indian influence. Those accustomed to shopping for groceries in processed produce all neatly packed within air-conditioned shopping malls will perhaps find this experience of hanging racks of mutton and pork meat and squawking chicken being selected and slaughtered, visceral – me thinks.

---
Cecil Street Market

About a 15 minute walk from KOMTAR, this wet market also sells clothes and household items. There is a hawker centre here that serves dishes like duck meat kway teow, assam laksa (a kind of sour and spicy noodle soup) among other traditional Penang fare. At the time of my visit in the evening, the hawker center was winding down its business and so were the fresh vegetables section. The wet market was more to my interest and I spent some time taking photos of the household items and the fresh fish and meat on sale. As was my experience in other markets (and also generally on the streets of Penang), most stall owners were ok to the idea of being photographed, especially as I took care not to get in their way.
---
Campbell Street Market
Campbell Street Market is market within George Town. This 1900 Victorian style building is located at the junction of Campbell Street and Carnavon Street. Just like any other market place, it is at its busiest in the early hours of the morning. Makeshift eatery stalls also serve piping hot food at the street side. Campbell Street Market apparently stands on the site of a Malay cemetery, Hutan Mayat (forest of dead bodies). The nearby Chowrasta Market is technically older than this market; the former however underwent a reconstruction while the latter still retains the original architecture. I had the opportunity to visit the place both in early morning hours as well as during the later part of the day, and what a contrast it was. Mornings were fairly noisy, with sounds of squawking chicken being slaughtered in the midst of speakers belting out Chinese hits. Evening time saw this place extremely dreary, with rats darting in and out of stone pockets while a couple of resident cats snoozed,
---
Pasar Basah Air Itam

The Ayer Itam Market is a popular wet market in the Air Itam (also known for the iconic Kek Lok Si and the asam laksa food stalls) area of Penang. Having been around for many decades, population has multiplied several times and this area is today very congested, with traffic proceeding at almost a snail's pace. It has a variety of things on sale; fresh pork meat could be sold right next to women's innerwear. The wet market itself is in a built up structure and sells all kinds of fresh vegetables, fruits meat, fish, seafood and spices. It is possible to buy live chicken and have them butchered. Outside, there are many possibilities to purchase apparel, shoes and homeware. Some of the most famous shops of Penang selling asam laksa are reputed to be located just outside the wet market, at the corner of Jalan Air Itam and Jalan Pasar. In addition to that, other culinary items available are kway chap, duck rice, char kway teow, among others. A number of Rapid Penang buses head to and pass through the Ayer Itam Market. I took the ones from Komtar, once on my way to the Kek Lok Si and a second time to try and catch the early morning buzz at the wet market.
---
Powered by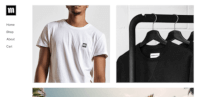 Create your own unique website with customizable templates.